Margot St. Aubin.
While I was in Chicago, I was offered a visit to a gun range by fellow Catholic blogger,
Margot St. Aubin
. She had read the Pius trilogy thus far and could see that I wasn't exactly up on guns.
And by that I means I've never seen one off of a cop, and never held one. Welcome to New York City. Screw you, Bloomberg.
Anyway....
So, she offered me a range visit while I was in the area.
I walked in to the gun range, and explained the situation. When I said I was I New Yorker, I used the cop line from above.
Off of that visit .... well, one suggestion for writers: First of all, assume that there are no clips. They are magazines. Period. Few guns actually use clips.
Second, I didn't take any pictures because, really, I'm an idiot. Actually, I'm still not used to the concept of my phone as a tool to document every last event in my life.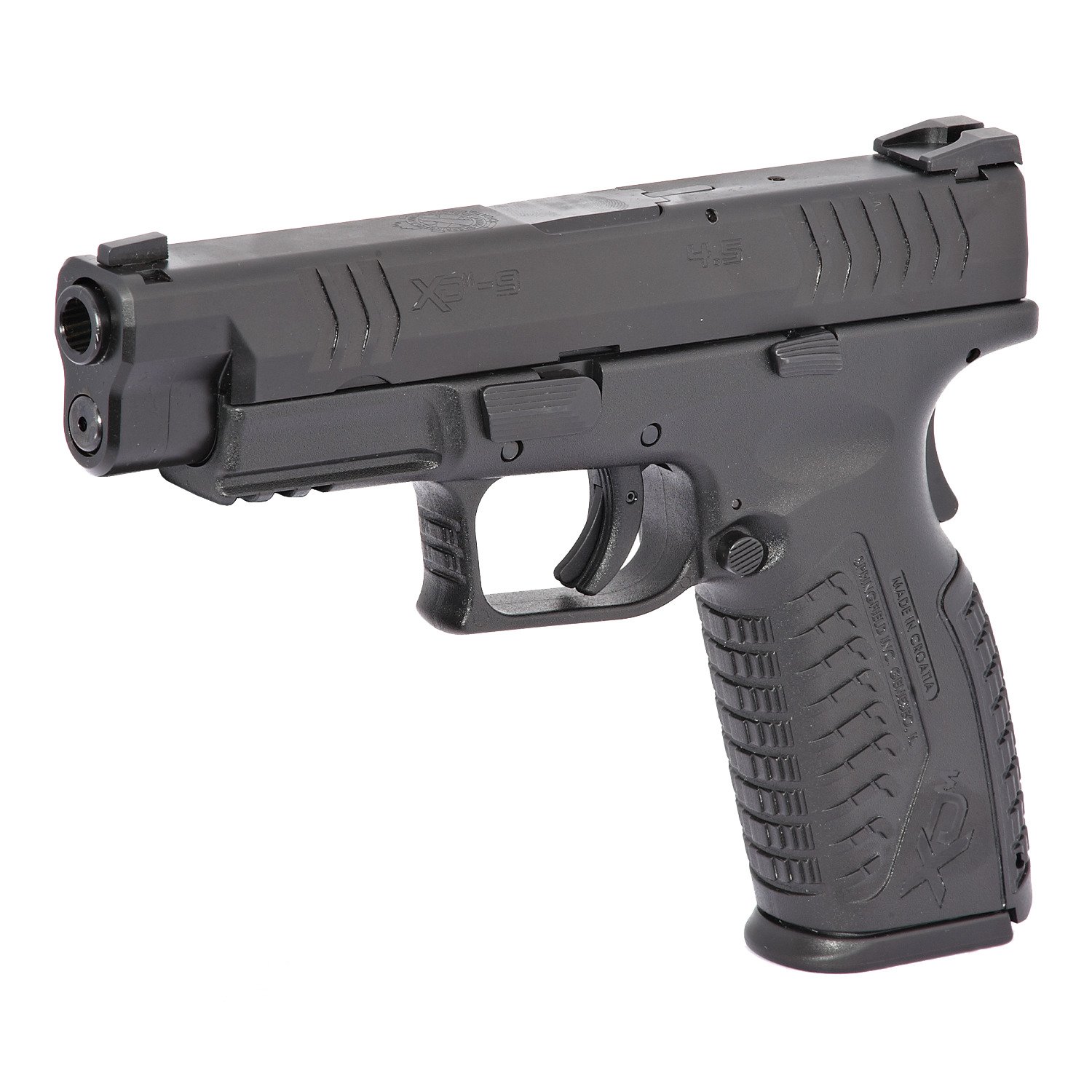 Springfield, XD, 9mm. The model I used at the range
Upon my arrival, the store owner was pleasant. He went over the rules of gun safety, most of which I knew. He then went over the gun's operation, some of which I knew. I never really knew what to do with my thumbs when firing, now I know that they go over one side.
I knew about avoiding slide bite (when gripping the gun, make sure the slide doesn't take off skin between your thumb and forefinger).
Squeeze, don't pull. I always knew this rule, just didn't really know how to apply it. Even after firing off some rounds, I'm still not 100% I do.
Don't point at anything you don't intend to shoot at / act like it's loaded all the time... again, I picked that up from many, many thrillers where guns come into play.
What I didn't know were the rules of the individual range. I knew that the slide locked back when the gun was empty, though I didn't know there was a little switch? Button? on the side that slid it back into position after it was reloaded, and automatically filling the chamber.
My stance was a simple weaver stance. Feet are diagonal, gun is cupped in both hands, elbows are not locked out ...
Basically, I learned the stance by watching Jack Bauer on
24
.
I started out relatively close, only a quarter of the range, then I moved it halfway down range. I fired 21 rounds, all but 3 landing within the 10 ring (well, I think). When one of the employees saw it, I think the word he used was "fantastic." Or was that the hotel employee who saw me bringing it inside the hotel? I'm not sure. There were a few compliments from complete and total strangers.
Either way, we've got photos.
Some observations.
Brass goes EVERYWHERE. And I mean EVERYWHERE. The casing ejected over my shoulder, around my body, directly onto the floor, bouncing off the stall I was in, rolling as far as 8 feet away, easily. I understand why not every killer polices their brass. It's hard work. And I was standing still. Imagine if it were a running shootout. Oy.
Firing a gun is a lot easier than I thought. Then again, the Springfield that I was using was very easy to operate. It's not quite point and click, but it's close. The grip safety is nothing. It's a button at the back of the pistol grip, just under where it meets the rest of the gun, where the webbing between thumb and index finger wrap around the gun. From what I can tell, the hardest part was putting the bullets into the magazine. Step one, the broad flat part of the bullet goes into the narrow part of the magazine. The pointy-er bit goes towards the open end. And after the first ten bullets, the spring inside the magazine starts to fight back.
Damn, that thing's light. As in toy gun light. The gun owner stripped the barrel off for me and let me hold the frame. The frame is comparable with a squirt gun. The bullets will double the weight. Just over a dozen pill-sized pellets of doom will double the weight. Imagine it. It's strange.
Come to think of it, I think a super soaker, empty, is heavier than an actual gun. Okay, it's been years since I've even seen a super soaker, but you get the idea.
I always heard that the magazine ejection button was behind the trigger, but it's actually on the side of the gun behind the trigger guard.
After firing, there was no smell that I really picked up on. None. Seriously, none. There were three other people firing guns in that range at the same time, and I didn't really pick up on any major scent. I expected a smell akin to a fireworks display. But, apparently, expanded cordite doesn't exist anymore. At all. So, just pretend it doesn't exist. I made reference to it in
A Pius Man
, but thankfully, I didn't say where the explosive came from, just that it smelled like a fireworks display. Granted, I said it smelled like Cordite, but I might be able to bluff through if I'm called on it.
There are pink AR-15s. Really. It was strange, because I could ID it by sight, despite the pink. I may have been looking at guns too long.
It's official. Guns are not that scary. Also, I may need to rewrite some scenes in future novels.
Thanks once more to Margot for bringing me along. It was awesome.