When
George RR Martin
proclaimed that the Best Related category was a "toxic swamp," due to Vox Day taking over the category, I wondered what the bloody blue heck his problem was.
Look at this.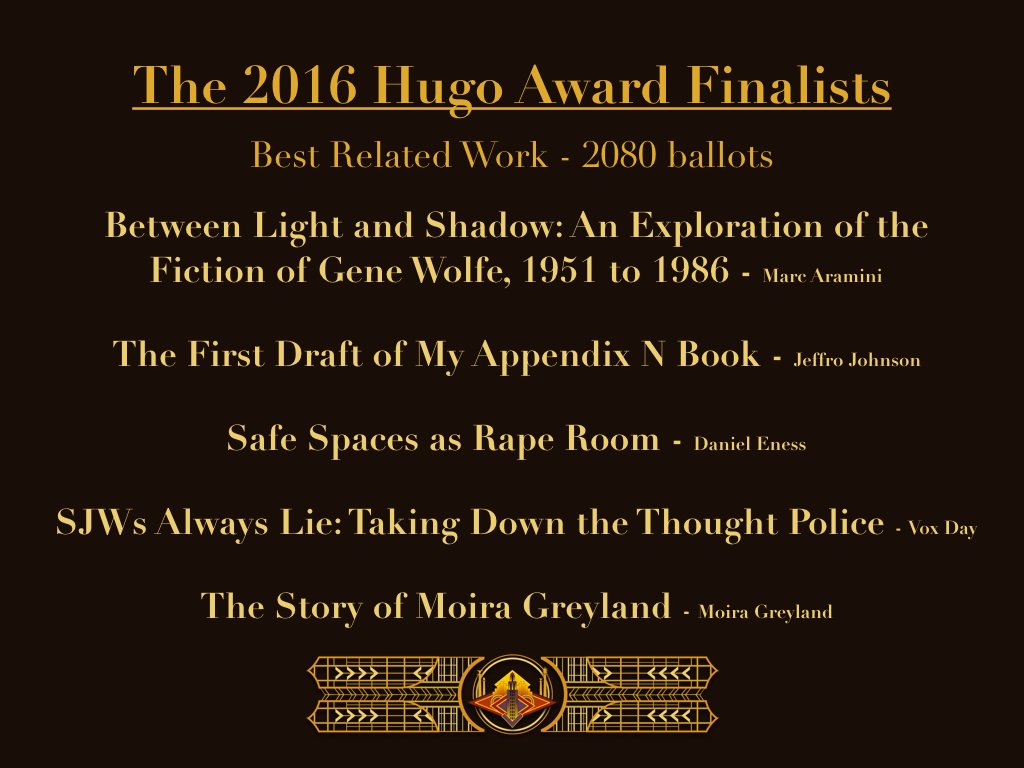 I mean, when the short story category has
Space Raptor Butt Invasion
and gay alien dinosaur erotica, and the other has those? What the heck?
Let's face it: the one about Gene Wolfe shouldn't be a problem. Gene Wolfe is an awesome author. Having been on a panel with him, I can verify that he is an amazing person. Can't see one thing that would be a problem about it.
Jeffro? Funny, it wasn't that much of a problem last year, was it? Not a toxic swamp
then
, was it?
SJWs Always Lie: Taking down the Thought Police
, and
Safe Spaces as Rape Room
.... yeah. That's interesting. Both are about challenging rampant PC idiocy storming the universe.
Then there's
The Story of Moira Greyland
.
Who's Moira Greyland? I had no idea. Even when I tripped over her in a Writer group on Facebook, her post was "Wow, I have a Hugo nomination!" I asked her if she knew about Puppies, she did, and it ended with her making suggestions about how to SWAT her in another
Sad Puppies Bite Back
if I did that .... and I might ...
That was it. No idea who she was, where she came from, nothing. Call it a lack of curiosity, or apathy, or maybe I was busy.
How bad could this be?
Then
I read Brian's blog entry
.
Yeah. Moira Greyland is the sexually abused, frequently raped daughter of Marion Zimmer Bradley -- author of
The Mists of Avalon
, worshipped by the PC crowd, because "feminism" -- who enabled (and joined in with) her husband in raping young Moira.
Sooo..... George Rape Rape Martin, do you have a problem with
The Story of Moira Greyland
because she's taking one of the sacred cows of your "Fandom" and making a stake out of her? Is that your problem? Because frankly, making a rape victim a punching bag because she kicked over the rock that you and people like you hid MZB, her husband, and creatures like them?
So if the
entire
field is a
toxic swamp
, you have to wonder about Martin hating a book about Gene Wolfe, who is a brilliant fantasy author (who writes for Tor). Or Martin hating
Appendix N
this year, but not really last year...but hey, he works for Vox, so of course he hast o hate them.
The anti-PC books, we're not really surprised about.
But
The Story of Moira Greyland
? Really?
So.
Ahem ... Dear George RR Martin, the only reason to hate this story is because you didn't want to hear the truth about a rapist in the midst of your depraved, vile gathering of corrupt, contemptible people who would let rape happen, turn a blind eye to rape because of
politics
. Screw you.
Stronger language is probably illegal. Because trust me, I want to throw rocks.