It's June.
By the end of the month, everything published between July 1, 2017, and this June 30th, is eligible for....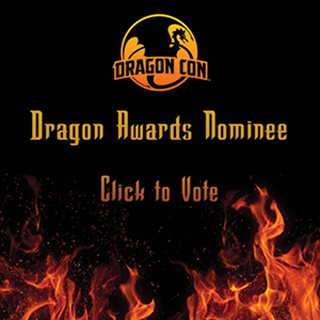 Yup, I'm going to do two more posts on this. One now, once in July, after the window closes.
This year, I have one horse in the race. One. I've got a single book that is eligible:
Good to the Last Drop
, book 4 of
Love at First Bite
... It is the last sequel to the Dragon Award nominated
Honor at Stake,
and
Demons are Forever.
Good to the Last Drop
came out last year, and was removed for the rerelease. So we'll see what.
Anyone who has read the book and thinks the series deserves another Dragon nomination, feel free. Fire for effect.
If you have not yet read
Good to the Last Drop
.... sorry about that. But it'll make a good filler vote if you're missing something in fantasy, YA or horror?
As we get closer to the Dragons deadline, I've refined my thoughts along the way. Not much, though. If you have something you want to suggest, I am deadly serious, leave them in the comments.
Best Science Fiction Novel
Karl Gallagher: Torchship Captain
.
Reviewed
here
. I enjoyed this book so much, that if David Weber needs some help getting Honor Harrington going again, he and Karl should talk.
Robert Kroese: Dream of the Iron Dragon
Kroese puts out good stuff, from Rex Nihilo to Erasmus Keane. This one is "Vikings in space." This is actually
Jon del Arroz's pick for his Happy Frogs
selection.
.... Yeah, I know, I still don't have more than that. I still haven't read Andy Weir's
Artemis
, nor has anyone else I know. It's been on my pile for a while now. Hopefully I'll get to it before heck freezes over.
I don't think that Brian Niemeier wants another dragon award.
Suggested by the internet.
The Recognition Run
Johnny Rockett and the Beautiful Six
In the Rift
, Uphoff
Sheik of Mars
Best Fantasy Novel (Including Paranormal)
This one drives me crazy.
There's no Butcher.
I don't think that
Monster Hunter Saints
will be out by the end of the month. And Larry doesn't want another Dragon Award.
There's no Carrie Vaughn.
No Kim Harrison.
There's the sequel to
Terry Goodkind's The Nest
... which I haven't read yet.
Monster Hunter Files
is an anthology.
The only thing I have is
War Demons, by Russell Newquist
, my editor and publisher over at Silver Empire books... he sent me the ARC, then my Kindle promptly died. Take a look at
War Demons
, then tell me what YOU think.
Jon's Happy Frogs list has Lindsay Buroker for
Dragon Storm
... whoever that is.
Best Young Adult/Middle Grade Novel
The Awful Truth About Forgetting
(Rachel Griffin, book #4)....
Seriously, can we get Jagi an award for this series already?
I reviewed it here,
but really people, just do it already.
This is one category that I don't feel bad about only having one nominee.
Suggested to me by the hive mind of social media.
Valor's Duty, Kal Spriggs
.
Imani Earns Her Cape
Best Military Science Fiction or Fantasy Novel
I want to say David Weber. But I suspect that this might sooner go to Timothy Zahn for the
Honorverse
prequel novels. Just a guess. Again, I can't recall when their books came out last year.
You may also which to consider
Daniel Humphrey's A Place Called Hope
. Why? Because book 1 received the Dragon Award nomination last year in Apocalypse, and Dan mentioned online that book 2 is actually MilSF. So that's probably a good bet.
Also, Mark Wandrey and Chris Kennedy --
A Fiery Sunset
. It's on my pile ... along with the other books they've put out. My backlog will soon smother me.
Suggested by the internet
Legend, Christopher Woods
-- which was suggested as another candidate. It also seems set in the Mark Wandrey Four Horsemen universe, which is part of the backlog.
Last Flight of the Acheron
Best Alternate History Novel
Still no sequel to
Another Girl Another Planet
by Lou Antonelli Other than that...
Hans Schantz,
A Rambling Wreck
. I've read it. It was awesome.
AND I HAVE FINALLY REVIEWED IT
.
About damn time.
Jon's Happy Frogs concurs
.
Suggested by the internet
Best Media Tie-In Novel
The category probably opened up as a good way to avoid having a flood of
Star Wars
or
Star Trek
books flood a category.
What I would like to happen is to nominate Timothy Zahn's
Thrawn
book of last year ... but that came out too early for this year.
Don't worry, there's a sequel!
.... Except that
Thrawn: Alliances
is coming out in
July
.
Argh.
Well, at least it's eligible for NEXT year's Dragon Award.
But now that we have a Media Tie-in category, can we have a best comic book movie now? That way it's not a Marvel Vs DC knock down drag out every year?
There is only one problem: This category replaced best Apocalypse. Huh. I wonder if everyone hit peak Distopia fatigue all at the same time.
And yes, you'll notice that, no, I
don't actually have a nominee for this one
. I have nothing. If you have something, comment below.
Jon del Arroz and Happy Frogs suggests Deadlands: Boneyard .... who or what, I don't know. Moving right along...
Best Horror Novel
And we're back to this. Sorry, but the only horror I go near is what I write.
So, there's
Good to the Last Drop
. Again. Yes, sorry about that.
Now, I could argue that
Good to the Last Drop
is the culmination of the previous three novels, two of which were nominated for Dragon Awards. I've got demons, Vatican Ninjas, vampire hordes, shapeshifters, and anti-Vampire "civilians" (a collection of police, street gangs, and the Mafia, because welcome to New York, you bloodsucking bastards).
Personally, this might be more Urban Fantasy than horror, but the last two were in horror, so I guess no one at the Dragon Award committee objects.
Suggested to me by readers are
Footnotes From the Apocalypse
, by L.A. Behm II
Ghosts of Baikonur
(Footnotes from the Apocalypse Book Two), by by L.A. Behm II
Happy Frogs suggests Russell for this. For conflict resolution, I have some thoughts below.
Best Comic Book / Best Graphic Novel
Dark Maiden #1
-- by Jonathan Baird, this one looks like fun. It really does.
"Dark Maiden" is the continuing story of Joan d'Arc the young girl who was the savior of France during the 15th century. The story picks up almost 600 years after her death with her resurrection on Earth. Armed with knowledge of the truth behind the afterlife, and pursued by agents of both God and Satan, she journeys through our modern world on a quest for meaning in life beyond simple good and evil. She is empowered with the ability to see past the mundane world and into the spiritual realm. This time around, unlike during her first life, she sees the universal conflict between the forces of chaos and order in a new light.

Dark Maiden is an examination of the metaphysical question... "What does it mean to live a moral life outside the confines of traditional religious belief?" Joan's story is one of personal sacrifice and heroism without the comfort that her reward is in heaven. She knows what awaits her in paradise and it is anything but a reward.

She is also haunted by the question "What is the favor she must perform to pay for her soul's freedom?"
Happy Frogs wants Timothy Lim -- My Hero MAGAdemia #1.
Because Jon.
TV Series, TV or Internet
iZombie
... Was okay this season. I'm not sure they deserve it this year. They need a better class of brains. Because while in season's past, Liv could toggle off and on brains, this year, she ate someone and seemed stuck in that persona for most of the episode.
Midnight Texas
was fun, and Charlaine Harris has a solid fan base. Truthfully, I'd vote for this.
Lucifer
... is dead. The series is canceled. I'm not sure if a Dragon Award would be a good consolation prize.
Arrow
... is on my s*** list. They get three episodes next year, otherwise I'm done with all of CW DC TV.
The Punisher
.... no.
The Defenders
... No
The Orville
. Probably.
Also the Happy Frogs
pick.
Best Science Fiction or Fantasy Movie
Justice League
? No
The Last Jedi
: Hell no.
Thor: Ragnarok
... maybe.
Spider-Man: Homecoming
... eh. I liked the three main characters. Why was anyone else in the film? They were a waste of time.
Bright
...? No. It was okay, but I wasn't anywhere near as blown away as everyone else.
Happy Frogs
wants this to win. I rate it a solid meh.
Black Panther
... was overhyped.
Right now, I'm thinking
Ragnarok
. I haven't seen
Infinity War
yet, but the reactions are so mixed, I wouldn't bet money one way or another.
Best Science Fiction or Fantasy PC / Console Game
This is a problem when you have so many games doing loot boxes that I have urges to just tell all of the games to go screw themselves.
Middle Earth: Shadow of War
X-Com 2: War of the Chosen
Cuphead
Super Mario Odyssey .
There are, of course,
Persona
and
Yakuza
games that came out this year.... just don't ask me when.
Nier: Automata
I've heard great things about, but it came out in January or February 2017, and thus isn't eligible.
You know what? This might come down to
Cuphead
or
Super Mario Odyssey.
Happy Frogs wants the "Doki Doki Literature Club"... whatever the heck that is.
Middle Earth: Shadow of War
:
Yes, I like the mobile game. Move along.
Happy frogs will go along with it.
Best Board /Miniatures / Card / Role-Playing Game
Star Wars: Destiny - Fantasy Flight Games (stolen from Happy Frogs)
Now, of course, there are alternate options. Brian Niemeier went from Horror to SF. I, Daniel or Russell could be in any of several categories. So could Jagi.
So let me run down the list of awesome and I'll give you some suggestions in case you have definite nominees for certain categories, but not others. Think of these as filler nominees for categories you're not just certain about.
Good to the Last Drop
.... Fantasy / Paranormal. Military SFF (I have Vatican Ninjas), Horror (because Vampires) ... and YA, as I had written for that reading level originally.
Karl Gallagher: Torchship Captain
. Best SF or best MilSFF. I really doesn't fit anywhere else.
Robert Kroese: Dream of the Iron Dragon
-- Best SF, Best MilSFF. Perhaps Alternate History.
War Demons, by Russell Newquist
, -- fantasy / paranormal; MilSFF (war veteran comes home with a magic sword); horror;
The Awful Truth About Forgetting
(Rachel Griffin, book #4).... YA, fantasy / paranormal.
Daniel Humphrey's A Place Called Hope
.... MilSFF, Horror, Fantasy (it has zombies)
Mark Wandrey and Chris Kennedy --
A Fiery Sunset
. Best MilSF, Best SF,
Hans Schantz,
A Rambling Wreck:
Best Alternate History, or best SF.
Right now, that's all I have. Suggestion box is open. Please submit.