So, the Dragon Awards eligibility window is shut.
The votes need to be in AT THE END OF THE WEEK. You have five days left. Voting stops on July 20th.
I've seen only three people publicly post their lists. I had one other person email me his list. I had hoped to start a conversation, but no one wanted to play.
Kai Wai Cheah
posted his list, and several of his list looks like mine -- including War Demons and
Good to the Last Drop
. Thanks, Cheah.
Happy Frogs
is Jon del Arroz's list. He agrees with me on Alternate History, and also agrees with me on a few others, though his placement is different than mine.
Vox
is nominating Castalia House authors .... but then again, several of them are John C Wright, so who's going to argue with JCW getting nominated again?
EDITED TO INCLUDE: Jim McCoy's list. Which is also interesting.
Just remember the rules, everything published between July 1, 2017, and this June 30th, is eligible for....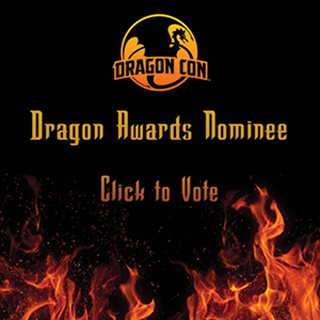 This is my final post on it. Okay, my last post as far as nominating goes. Voting will, of course, depend on what is finally nominated.
My personal involvement is nowhere near as insane as it was last year. Last time I had 3 books up, and 2 books nominated. This year, I have one horse in the race,
Good to the Last Drop
, book 4 of
Love at First Bite
... It is the last sequel to the Dragon Award nominated
Honor at Stake,
and
Demons are Forever.
Good to the Last Drop
came out last September, and was removed for the rerelease.
Anyone who has read the book and thinks the series deserves another Dragon nomination, feel free. Fire for effect.
If you have not yet read
Good to the Last Drop
.... sorry about that. But it'll make a good filler vote if you're missing something in fantasy, YA or horror? I don't know, just a thought.
Best Science Fiction Novel
MY VOTE:
Karl Gallagher: Torchship Captain
.
Are we at all surprised? There's a reason I kept putting it at the top of the list. Reviewed
here
.
OTHER CONSIDERATIONS
Robert Kroese: Dream of the Iron Dragon
Kroese puts out good stuff, from Rex Nihilo to Erasmus Keane. This one is "Vikings in space." This is actually
Jon del Arroz's pick for his Happy Frogs
selection.
Suggested to me by various places around the internet.
The Recognition Run
Johnny Rockett and the Beautiful Six
In the Rift
, Uphoff
Sheik of Mars
Superluminary: The Lords of Creation
, by John C Wright -- nominated by Cheah and Vox.
Best Fantasy Novel (Including Paranormal)
This one drove me crazy. No Butcher. Larry doesn't want another Dragon Award. Carrie Vaughn. No Kim Harrison.
Monster Hunter Files
is an anthology.
The only thing I have is
War Demons, by Russell Newquist
, my editor and publisher over at Silver Empire books... he sent me the ARC, then my Kindle promptly died. Take a look at
War Demons
, then tell me what YOU think.
Jon's Happy Frogs list has Lindsay Buroker for
Dragon Storm
... whoever that is.
Other than that ...
Good to the Last Drop
if you want it for fantasy instead of horror? But my series has been horror in previous years, so there's that.
So, right now, it's either Russell or leave it blank.
Alternate suggestions brought to you by the internet.
Best Young Adult/Middle Grade Novel
The Awful Truth About Forgetting
(Rachel Griffin, book #4)....
Seriously, can we get Jagi an award for this series already?
I reviewed it here,
but really people, just do it already.
This is one category that I don't feel bad about only having one nominee.
Suggested to me by the hive mind of social media.
Best Military Science Fiction or Fantasy Novel
Consider
Daniel Humphrey's A Place Called Hope
. Book 1 received the Dragon Award nomination last year in Apocalypse, and Dan mentioned online that book 2 is actually MilSF.
Also, Mark Wandrey and Chris Kennedy --
A Fiery Sunset
. It's on my pile ... along with the other books they've put out. My backlog will soon smother me.
Suggested by the internet
Legend, Christopher Woods -- which was suggested as another candidate. It also seems set in the Mark Wandrey Four Horsemen universe, which is part of the backlog.
Best Alternate History Novel
Hans Schantz,
A Rambling Wreck
. I've read it. It was awesome.
AND I HAVE FINALLY REVIEWED IT
. About damn time.
Jon's Happy Frogs concurs
.
Suggested by the internet
Best Media Tie-In Novel
I have nothing.
Jon del Arroz and Happy Frogs suggests Deadlands: Boneyard .... who or what, I don't know.
Vox has a WoW novel
.
I'm going to have to leave this one blank.
Moving right along...
Best Horror Novel
And we're back to this. Sorry, but the only horror I go near is what I write.
So, there's
Good to the Last Drop
. Again. Yes, sorry about that.
Now, I could argue that
Good to the Last Drop
is the culmination of the previous three novels, two of which were nominated for Dragon Awards. I've got demons, Vatican Ninjas, vampire hordes, shapeshifters, and anti-Vampire "civilians" (a collection of police, street gangs, and the Mafia, because welcome to New York, you bloodsucking bastards).
Personally, this might be more Urban Fantasy than horror, but the last two were in horror, so I guess no one at the Dragon Award committee objects.
Suggested to me by readers are
Happy Frogs suggests Russell for this. For conflict resolution, I have some thoughts below.
Best Comic Book / Best Graphic Novel
Dark Maiden #1
-- by Jonathan Baird, this one looks like fun. It really does.
"Dark Maiden" is the continuing story of Joan d'Arc the young girl who was the savior of France during the 15th century. The story picks up almost 600 years after her death with her resurrection on Earth. Armed with knowledge of the truth behind the afterlife, and pursued by agents of both God and Satan, she journeys through our modern world on a quest for meaning in life beyond simple good and evil. She is empowered with the ability to see past the mundane world and into the spiritual realm. This time around, unlike during her first life, she sees the universal conflict between the forces of chaos and order in a new light.

Dark Maiden is an examination of the metaphysical question... "What does it mean to live a moral life outside the confines of traditional religious belief?" Joan's story is one of personal sacrifice and heroism without the comfort that her reward is in heaven. She knows what awaits her in paradise and it is anything but a reward.

She is also haunted by the question "What is the favor she must perform to pay for her soul's freedom?"
I'm voting for it.
Happy Frogs wants Timothy Lim -- My Hero MAGAdemia #1.
Because Jon.
Vox has Alt-Hero.
TV Series, TV or Internet
The Orville
is going to be my pick. Probably.
Also the Happy Frogs
pick.
Vox is voting for Stranger Things. Kai doesn't watch tv.
Best Science Fiction or Fantasy Movie
Thor: Ragnarok
... Yeah, I think I'm going to go with this.
Bright
...?
Happy Frogs
wants this to win. I rate it a solid meh.
Vox wants to do
Incredibles 2
. Huh. Wouldn't have seen him as a family movie guy, but okay.
I haven't seen
Infinity War
yet, but the reactions are so mixed, I wouldn't bet money one way or another.
Best Science Fiction or Fantasy PC / Console Game
Vox wants Kingdom Come: Deliverance. Which surprises me, but sounds like fun.
I'm going to vote for
Middle Earth: Shadow of War,
largely based on how much I enjoyed the first one.
Though this might come down to
Cuphead
or
Super Mario Odyssey.
Happy Frogs wants the "Doki Doki Literature Club"... whatever the heck that is.
Middle Earth: Shadow of War
:
Yes, I like the mobile game. Move along.
Happy frogs will go along with it.
Best Board /Miniatures / Card / Role-Playing Game
Star Wars: Destiny - Fantasy Flight Games (stolen from Happy Frogs)
Now, of course, there are alternate options. Brian Niemeier went from Horror to SF. I, Daniel or Russell could be in any of several categories. So could Jagi.
So let me run down the list of awesome and I'll give you some suggestions in case you have definite nominees for certain categories, but not others. Think of these as filler nominees for categories you're just not certain about.
Good to the Last Drop
.... Fantasy / Paranormal. Military SFF (I have Vatican Ninjas), Horror (because Vampires) ... and YA, as I had written for that reading level originally.
Karl Gallagher: Torchship Captain
. Best SF or best MilSFF. It really doesn't fit anywhere else.
Robert Kroese: Dream of the Iron Dragon
-- Best SF, Best MilSFF. Perhaps Alternate History.
War Demons, by Russell Newquist
, -- fantasy / paranormal; MilSFF (war veteran comes home with a magic sword); horror;
The Awful Truth About Forgetting
(Rachel Griffin, book #4).... YA, fantasy / paranormal, Alternate History
Daniel Humphrey's A Place Called Hope
.... MilSFF, Horror, Fantasy (it has zombies)
Mark Wandrey and Chris Kennedy --
A Fiery Sunset
. Best MilSF, Best SF,
Hans Schantz,
A Rambling Wreck:
Best Alternate History, or best SF.