As the joke goes -- so, Aside from all that, how was the play, Mrs Lincoln?
Yes. You know what leaving from Italy looked like. How about the rest of the vacation?
It was pretty good for the first six days. Even the day we arrived in Italy -- after a seven hour overnight flight where neither of us could sleep -- was pretty good.
We arrived at the airport and grabbed out driver after we spent at least half an hour trying to get from the plane to the exit. We had a driver arranged for by the travel agency (we probably would have just grabbed a taxi, but it came with the service) and we were off.
Now, it's hard to describe the drive from Leonardo da Vinci airport to Rome. But the first thing that comes to mind?
New Jersey.
Not even kidding. Much of the land to either side of us was flat and dead, filled with flora that hadn't seen a good day in a decade. There was the occasional hill springing straight out of the ground. There were small circles of homes placed almost at random. The roofs looked like what Americans would call mission style.
Then there were the projects.
I have no idea what they called the communities in Italy, but I swear we drove past the projects. They were tall apartment buildings almost stacked on top of each other, placed at odd angles to one another. The only real difference was the architecture style, which was mercifully, less 20th-century Soviet and more, well, Italian accented.
We got to our hotel in Municipio II, a block away from Santa Maria degli Angeli e dei Martiri (Saint Mary of the Angels and Martyrs), a beautiful church that was worked on by Michelangelo (not the Ninja Turtle) out of the repurposed Diocletian baths.
We got into the hotel and fell asleep.
As I said, seven hours overnight flight, and no sleep for either of us.
We only fell asleep for four hours. Otherwise we were going to wake up in the evening and turn into vampires and I've already written that series.
... Though it does bring to mind that I was going to have a follow up series called Honeymoon from Hell. Irony, considering how this trip ended.
Anyway, we were up and moving and ... yeah, then we actually went into
Santa Maria degli Angeli e dei Martiri.
So, yeah, it looked at good as you'd imagine with Michelangelo being involved in the design. You can go to my Facebook page and look at all the photos, so we can look at all of them.
No, I'm not going to post all of them in this post. Does this look like Instagram to you?
Moving right along, we walked past the church. We saw Saint Mary of Victory on Via XX Settembre, then hung a left. Then we hung a right at the four fountains.
We weren't wandering aimlessly, you understand. We were trying to get to the Spanish Steps, as well as a restaurant to the left of the steps and you come off of them.
Italian Pizza
We were highjacked into a restaurant by a charming hustler who fed us so well, we didn't mind the deranged price tag. The restaurant was The Golden Lion. It's a great place, but watch the price tag, it will sneak up on you and club you over the head.
By the time we were done, we were so tired, we walked back to the hotel.
And that was the end of Tuesday the 3rd.
For Wednesday the 4th, we had a plan. My wife wanted to see Trajan's column. I wanted to see the Angelicum and the Gregorianum, then Trevi fountain and finishing at the Spanish steps.
This is the Trevi fountain. Very impressive.
I'm not going to do the history on this one. Because If I lecture about Italian history, I'll just write another book.
I don't think any of us have time for that one.
Trevi, like most of the historic buildings and elements in Rome, is owned by the Italian government.
Because historic monuments are apparently nationalized automatically. Because Europe.
.... Ahem. Enough editorializing.
Our path was as mentioned above (Trajan's column, the Angelicum, the Greg, Trevi, and the steps.)
Trajan's column was interesting. It's located in the ruins of the imperial forum.
One problem: the Kenyans.
Yeah. If you think Europe has a gypsy problem, yeah. The Kenyans and the Middle Eastern migrants made the gypsies we saw look like pikers.
We were approached by black fellow asking where we're from, pretty much shoving stuff into our hands and onto our wrists ... and then asking for money.
Yeah. Right. Of course.
We paid off the first guy. Then we flashed our bling at the next few Kenyans, to let them know we'd already been conned, thank you very much.
Which was fine the first day. We won't even go into the rest of the week. After the first few days of being accosted by multiple guys daily, I was about ready to commit assault.
The Gregorianum ("The Greg") is the Jesuit Pontifical university. It's down a narrow street a few blocks down from the Trevi fountain.
It was ... a bit disappointing. The buildings didn't allow visitors. Some of the buildings needed paint. Or a wrecking ball. They didn't even have a good bookstore -- no hats, sweaters, mugs ....
What? My father is a college professor. My family have more college Tchotchkes than we know what to do with. Still. I have polo shirts from CUA that are twenty years old and in great condition.
... Same with the Angelicum.
Thursday was the Vatican.
.... It's the freaking Vatican.
No comment.
Again, check the photo album.
Friday was the archaeology museum, which was the beginning of the Corona BS. They put a cap on people who could come into the building.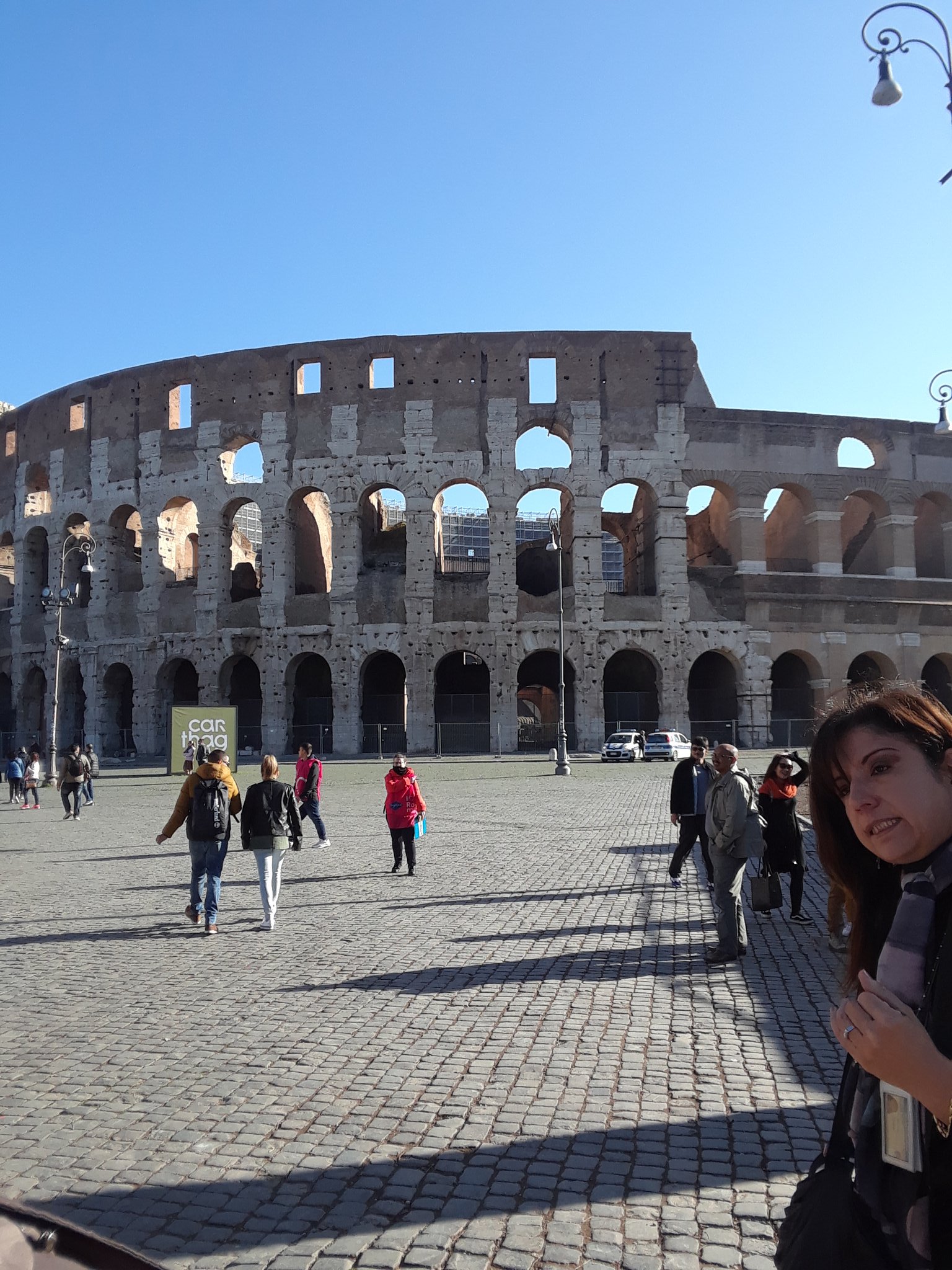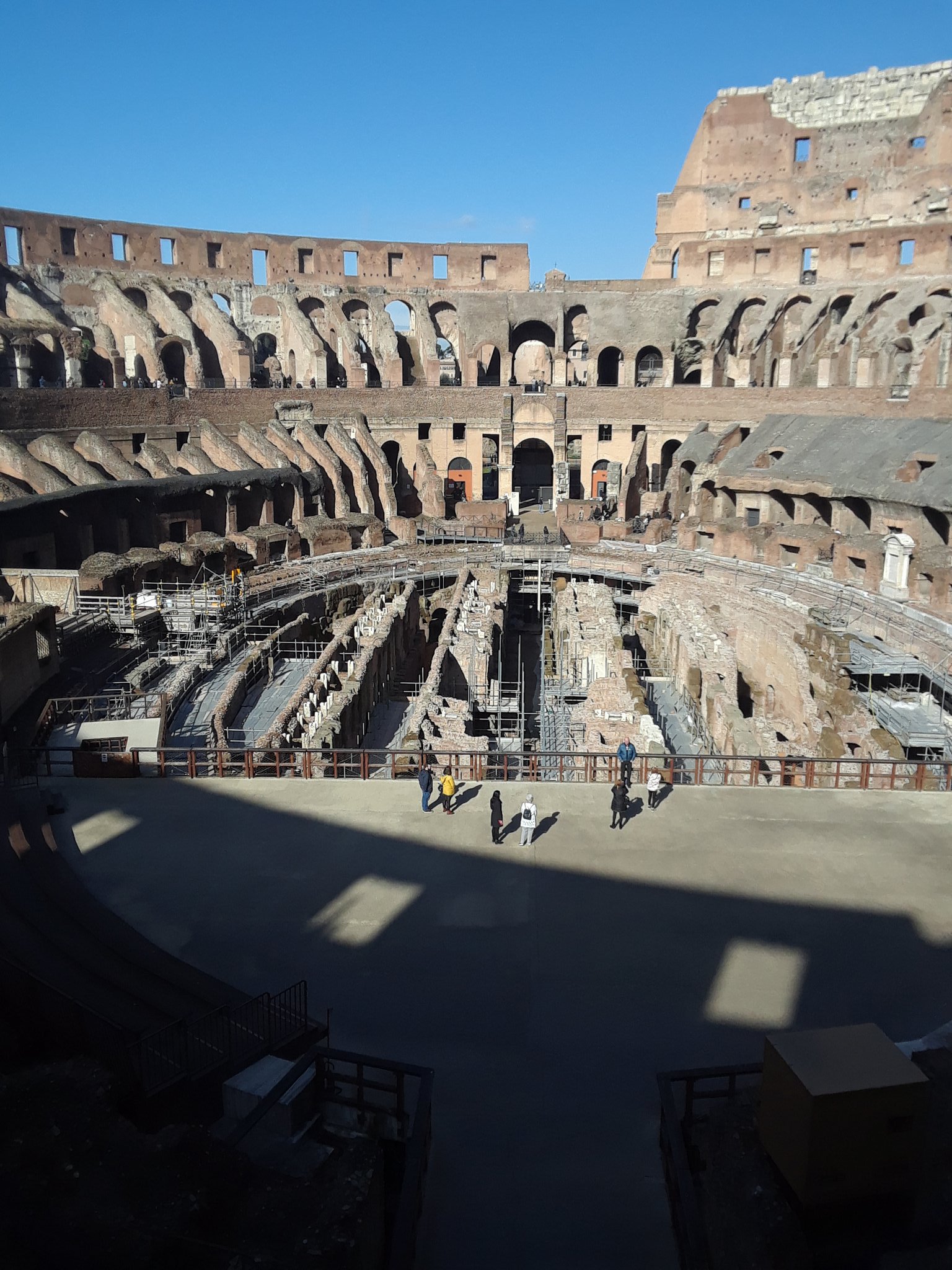 Saturday?
Saturday was the Colosseum.
Complete with tour guide.
It was the "emptiest" our tour guide had ever seen.
Considering that this was off season, and I had been nearly run over by multiple people every day during my time in Rome, I wondered what it looked like at peak season.
Sunday, we visited Castel Sant'Angelo.
It was closed.
We knew we were going to have a problem sooner rather than later.
As I said on Monday,
I liked the people. The government needs to be removed.
If you're interested in throwing us a few pennies, or a few dollars to go after the fee,
you can click at the link here.
If you don't want to throw us any cash, could you consider throwing me a nomination for a Dragon Award?
You may want to check out my latest release, Coven, over at the Silver Empire site.
Be well all. Be safe.
Meanwhile, I'm going to be in "quarantine" four two weeks, away from everyone.
Yeah. I'm a writer. Please. Twist my arm.